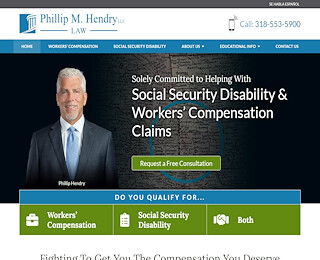 Five Tips to Help You Choose the Best Social Security Disability Lawyer in Shreveport
When you suffer a disability that leaves you unable to work, you may be eligible to collect social security disability. Filing for disability is not always as straightforward as it should be, and many people who deserve payments get turned down. Whether you are filing for the first time or are appealing a rejection, you can get the best results with guidance and assistance from a top social security disability lawyer in Shreveport. Here are five tips to help you choose the best Shreveport, LA disability lawyers.
Choose an Attorney with Experience
Not all lawyers handle social security disability cases. It is best to choose an attorney that has the experience to take care of the many issues that arise during the application and appeal processes. At Phillip M. Hendry Attorney at Law, we take care of SSDI cases daily, so we know the best ways to resolve issues to get you the compensation you deserve. We are a leading social security disability lawyer in Shreveport with years of experience helping our clients get SSDI.
Opt for an Attorney with Proven Results
Choose a social security disability lawyer in Shreveport with the skills to get positive results. Applicants with legal representation are three times more likely to get approved for SSDI than those who file on their own. You will be much more apt to get successful approval when you choose an attorney that has shown the ability to get the best results for his clients. At Phillip M. Hendry Attorney at Law, we have helped thousands of clients get the money they deserve.
Look for a Free Initial Consultation
A free initial consultation gives you a chance to get to know your attorney. Not all lawyers are a good fit for you. It is best to evaluate a social security disability lawyer in Shreveport. You can get answers to your important questions and seek the guidance that you need to move ahead with your claim or appeal. We have excellent communication skills and always respond promptly to our client's needs.  
Make Sure the Attorney is Local
There are many law firms that advertise services but don't have local offices. You want to hire a local social security disability lawyer in Shreveport to ensure the best results. You will have the ability to meet with your attorney and will be sure that your attorney understands all the various issues that pertain to your SSDI request. We have a local office with professionals to assist you every step of the way.
Read Client Testimonials
It is helpful to find out what other clients have to say about a law firm. As one of the best Shreveport social security disability lawyers and law firms, we have many happy clients. Read testimonials from our satisfied clients on our website to learn more about why we are the best SSDI law firm in the area.
Contact Phillip M. Hendry, Attorney at Law, for a free social security disability or workers' comp consultation if you live in Louisiana Phone: (318) 353-8104.
Phillip M. Hendry – Attorney At Law
3187978288
2250 Hospital Dr #216
Bossier City LA 71111 US