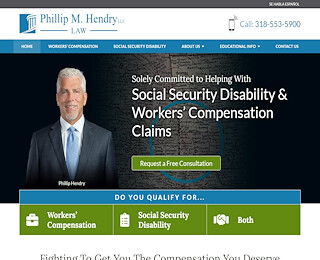 Suffering from a disability can make life challenging for you and your entire family. You need help and support to provide for food, shelter, and clothing. If you have a disability, you may qualify for disability compensation through social security. Obtaining social security disability can be difficult and may require assistance from experienced disability lawyers in Bossier City, LA. If you need help filing for social security disability insurance or if you were turned down, you can get the help you need from some of the best Bossier City, LA disability lawyers.
All Disability Lawyers in Bossier City, LA Aren't the Same
Whether you are filling out your first SSDI application or need to appeal a denial, the right disability lawyers in Bossier City, LA can help. Choose an attorney with the experience and expertise to handle these types of cases. At Phillip M. Hendry, Attorney at Law, we exclusively take SSDI and workers' comp cases, so we know exactly how to help. We work with these types of cases on a daily basis, so we know the requirements and laws. We get the best results for even the most challenging or complex situations. Our team works hard to assist you with your SSDI claim.
Expertise in Handling Complex SSDI Claims
The SSDI claim process can be difficult and complicated. There are specific guidelines and requirements that you must follow. If you provide inadequate proof of your disability, you will likely get denied. It is imperative that you get help from disability lawyers in Bossier City, LA with the expertise necessary. At Phillip M. Hendry, Attorney at Law, we understand SSDI cases inside and out. We know the process and the type of proof that you must provide for successful approval. We are here to assist you and answer your questions. We have helped thousands of people get the benefits they deserve.
Leading Disability Lawyers in Bossier City, LA
As one of the best Bossier City social security lawyers and law firms, we get results for our clients. We take charge of your claim and assist you in getting the evidence and documentation that you need to provide. If you were denied, we understand how to submit details that could change the outcome. We want to help you get the benefits you deserve. Don't settle for an SSDI denial. We are here to help. We start the process with a free initial consultation. You can ask questions and we will review your specific claim details to provide you with some guidance for how to move forward.
Get the Legal Help You Need
Most people get denied SSDI benefits because they didn't provide enough proof of their disability. At Phillip M. Hendry, Attorney at Law, we are a team of skilled professionals with the experience necessary to guide your claim to a positive result. We have many testimonials from our happy clients, which you can read on our website. : Contact Phillip M. Hendry, Attorney at Law, for a free social security disability or workers' comp consultation if you live in Louisiana
Phone: (318) 353-8104. Workers Comp: https://www.philliphendrylaw.com/workers-compensation/.
Social Security Disability: https://www.philliphendrylaw.com/social-security-disability/
Phillip M. Hendry – Attorney At Law
3187978288
2250 Hospital Dr #216
Bossier City LA 71111 US