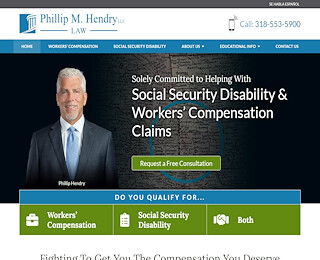 When you have a disability, the government may provide you with regular monthly social security disability payments. To qualify, an applicant must fill out and submit the application and wait for the approval. Unfortunately, many applicants that deserve benefits get denied. This can be due to a number of reasons, including that you did not provide the proper documentation with your application. Whether you are filling out a new application or need to appeal a denial, you can improve your outcome with help from qualified disability lawyers in Alexandria, LA.
Provide Proper Documentation
The application process can be complicated and the government requires some specific details to approve your claim. If you fail to provide the necessary documents or make any mistakes on the application, the result will be a denial. In order to make certain that you get the best outcome, you can seek guidance from reputable disability lawyers in Alexandria, LA. As one of the best Alexandria social security disability lawyers and law firms, we understand SSDI and know how to get favorable outcomes.
Get Help with an Appeal
Many applications get denied, sometimes for minor issues. If you received a denial letter, you have a limited time to file an appeal. People who have lawyers helping them get better results than those who don't. That's because leading disability lawyers in Alexandria, LA have years of experience and know the documents that are needed to prove your claim. At Phillip M. Hendry, Attorney at Law, we work exclusively with SSDI and workers' comp cases, so we know the laws and what it takes to improve your chances of success. We will help you get the benefits you deserve.
How Alexandria, LA Disability Lawyers will help
You want to win your claim and get the money and benefits that you are entitled to receive. The best way to ensure a successful outcome is with guidance from one of the best disability lawyers in Alexandria, LA. We will review your application and evaluate your situation. We will help you gather the documents that you need to provide with your application or appeal. We assist you through the process to make it easier and less stressful. With legal assistance, you will be sure that the information you provide will be adequate for approval. If you try to handle your claim on your own, you are more likely to remit improper data and are less likely to get approved.
Social security disability is available to help you and your family meet your financial obligations. The application process can be complex and it can take a long time to get an answer. You need to be sure that you provide the documentation necessary for a fast approval the first time. If you get denied, experienced disability lawyers in Alexandria, LA will assist you in appealing your claim and getting a better result.
Contact Phillip M. Hendry, Attorney at Law, for a free social security disability or workers' comp consultation if you live in Louisiana
Phone: (318) 353-8104 Workers Comp: https://www.philliphendrylaw.com/workers-compensation/.
Social Security Disability: https://www.philliphendrylaw.com/social-security-disability/.
Phillip M. Hendry – Attorney At Law
3187978288
2250 Hospital Dr #216
Bossier City LA 71111 US